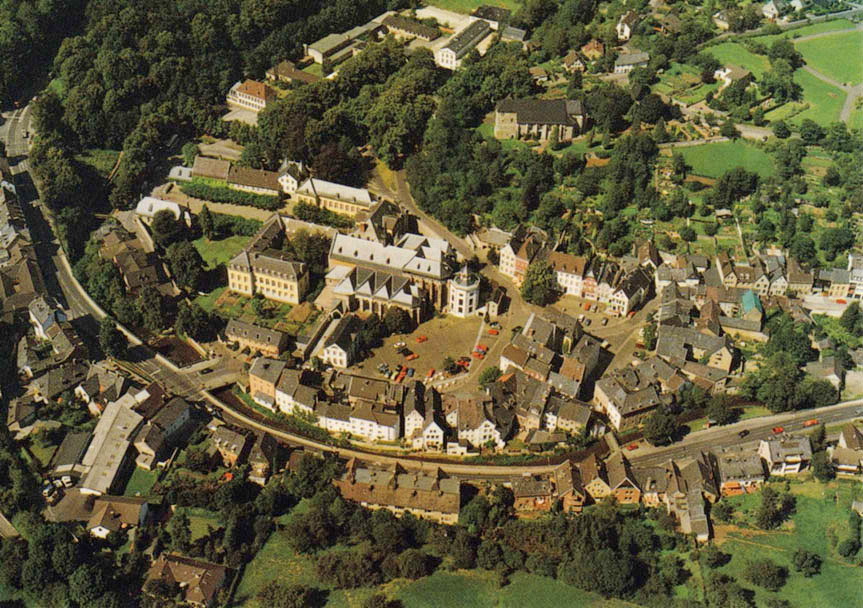 Following the inauguration of the monastery on the Inde River in 817, Ludwig the Pious gave it some sacred objects from the treasury of relics originally held by Charlemagne, his father: Christ's loincloth, grave cloth and Veronica cloth. The monastery's significance as a place of pilgrimage increased from the middle of the 9th century after a skull reliquary of Pope Constantine passed into its possession. Its name was changed to "Kornelimünster". The provost's church, St. Kornelius, has a richly-ornamented interior, including a Baroque high altar and the Anna altar dating from 1501.
The rest of the buildings originate from the 18th century and house the permanent collection "Art of North Rhine-Westphalia". The abbey garden emerged from the monastery's Baroque garden. However, it was severely affected by its period as part of the Rohland textile factory. After growing wild for many years, the garden was partially restored in 2003. Part of the funding for this project came from the Land of North Rhine-Westphalia.
In the Middle Ages, the monastery was surrounded by a "church family". There was a series of smaller churches in the surrounding area such as St. Stephanus mountain church (1000) with a view over the village and surrounding region, the Maria im Schnee chapel in the Klauser Wald woods, St. Gangolf chapel on Gangolfsberg hill, the St. Nikolas chapel at number 12 on Korneliusmarkt square and the Antonius chapel (1718).
The town centre is formed by two squares located in close proximity to each other – the Korneliusmarkt and the Benediktusplatz. Most of the houses were built in the middle of the 17th century. The styles form a unified ensemble, ranging from the Baroque period to Classicism. The narrow bed of the Inde River winds its way through the village.