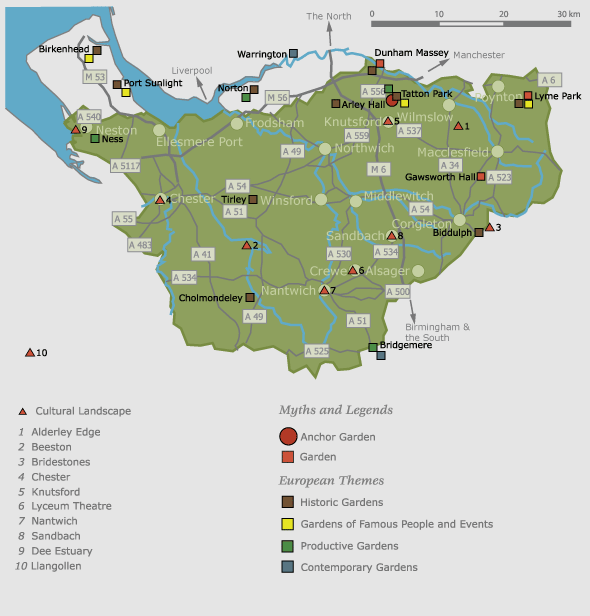 Gardens of Cheshire – Myths and Legends
Take our Myths and Legends route and discover five top Cheshire gardens and 10 other mysterious sites that each have a different story to tell.
They also have much in common. They allow you to experience familiar losplaces – or destinations you would never have thought to visit – in a way that will feed your imagination. Some locations are amongst the best and most famous attractions in the United Kingdom, others are more unusual and less well-known. But all will give you memories that will last long after you have returned home!
Our heritage is highly valued in Cheshire, especially our inheritance of gardens that bring with them centuries of history and tradition. This is not to say that their development is complete – they still embrace change and are no doubt creating the myths and legends of the future.
This Myths and Legends trail is a new and different way at looking at parks and gardens, through the personal histories of all those who created the horticultural masterpieces we see today. We owe our wonderful gardens, not only to the owners, garden designers and architects of the past but also to the gardeners, servants, and tradesmen who helped in the running of the great houses and their grounds. They designed, built and maintained the gardens and have stamped their personalities on them.
Myths and legends reflect the way these personalities have interacted with the gardens and other places around us. While they may have their basis in fact, the stories have evolved in the retelling, creating the fantastic tales we hear today.  They involve all manner of folk, from the peasant to the Peer, and from the highwayman to the monk. They interest people of all ages and backgrounds.
Each year Tatton Park holds a Halloween event for children. Combermere Abbey's history includes ghostly goings on from the 19th Century. Dunham Massey, located within Cheshire's historical borders, is one of the finest gardens in the North West of England and has links to some of England's most turbulent events. Lyme Park is set in the high moorland of the Peak District and has one of the longest and most colourful histories of any gardens in Cheshire. Gawsworth Hall is linked to the 'Dark Lady' of Shakespeare's sonnets as well as to the court of Elizabeth I.
The other 10 sites selected are further places in Cheshire with a fascinating tale to tell.  These include Roman Chester, which, with a history dating back 2,000 years, has more than its fair share of mysteries. Knutsford and Nantwich are fascinating and beautiful towns with much to offer the visitor in search of the unexpected. Other destinations are smaller but no less interesting – theatres, hotels, landmarks and landscapes are all included – to give the visitor to Cheshire a trip to remember.
The route is designed to have as wide an appeal as possible.  You may choose to visit just one or two sites – or you could explore all of them.  However you use this website you will see that there is much to be enjoyed and discovered in this mysterious and intriguing corner of England.