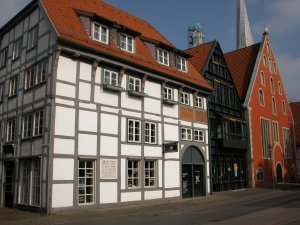 Three parallel streets running lengthways and connected to each other by small narrow streets, each ending with a town gate: Lemgo was founded according to this Lippe three-street-pattern by the Edelherren zur Lippe (Lippe Noblemen) at the end of the 12th century. Above all trade in cloth, garn and linen helped to bring wealth to the town. There is architectural evidence of this period of prosperity in the impressive stone and half-timbered buildings in the late-Gothic and Weser Renaissance styles.
A good starting point for a walk is the market square, which is dominated by the Town Hall. It was built between 1325 and 1612 and is regarded as a building of European significance.
The 13th-century Nikolaikirche (St Nicholas' Church) with its twin towers – the "unalike brothers" – is Lemgo's most famous landmark. The allegorical representations of the planets make the planet house of 1590/95 one of the most original half-timbered gable houses in Germany.
The Hexenbürgermeisterhaus (witch mayor house) of 1568/71 with its imposing façade in the Weser Renaissance style is named after Mayor Cothmann, who is regarded as the most notorious "witch-hunter" of the 17th century. As a municipal museum, it includes documentation of the way the subject of "witch-hunting" has been treated.
The Junker house is the creation of the architect, painter and woodcarver Karl Junker (1850-1912). This half-timbered house is covered in pilasters and cornices made from carved boards, battens and laths. The ornamentation is continued inside the house.
The former ramparts are also worth a visit. They form a green belt around the town as part of the "Garden Landscape of Ostwestfalen Lippe".
Links
Lemgo
Staff-Stiftung
Junkerhaus