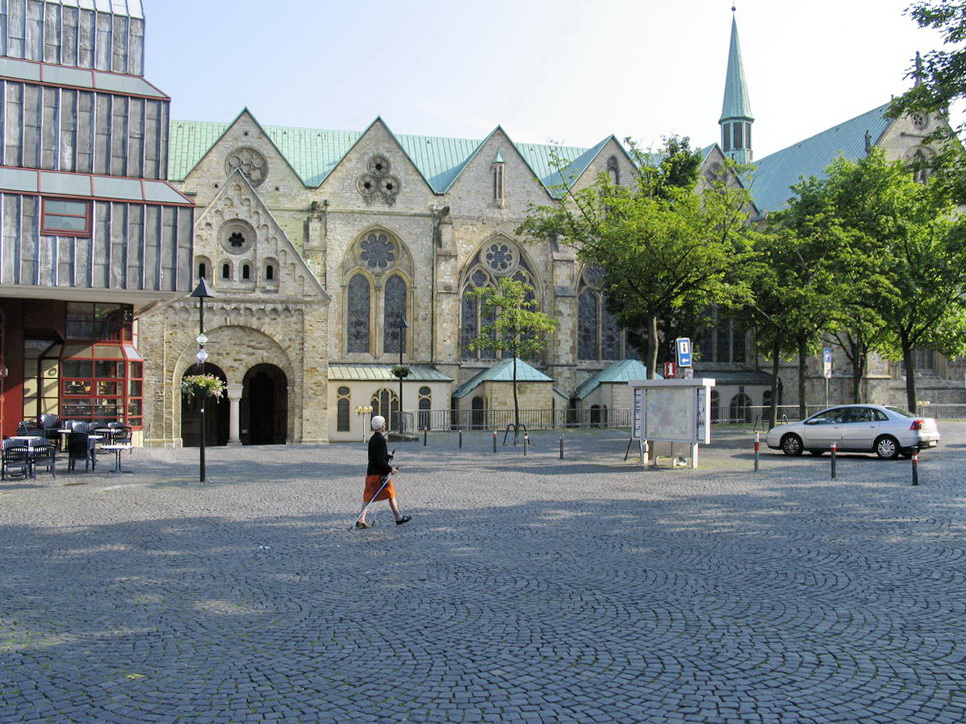 The histories of the Christian church and the diocese of Paderborn have been closely connected to the history of the town from the time when building of the first cathedral over the Pader springs started in the year 800. Ecclesiastical buildings from many centuries are still a prominent feature of the townscape today. The Pader river rises in the cathedral quarter from more than 500 springs.
Charlemagne's church – at the beginning no more than a stone chapel – developed in a recurring process of destruction and reconstruction into one of the most impressive churches in Germany – Paderborn Cathedral. The basic structure of the cathedral – its Gothic architecture and western tower – was erected in the 13th century and is still in place today. The "three-hare-window" can be found in the inner courtyard of the cloister. This symbol and talisman of the town dates from the 16th century. The crypt houses the remains of Saint Liborius, the patron of the town and archdiocese of Paderborn.
The remains of Charlemagne's imperial palace complex (Pfalzanlage) and those of Heinrich II's royal palace were uncovered near the cathedral in 1964. The term Pfalz refers to the royal courts in the Middle Ages, where the king lived and reigned alternately. This palace was so well preserved that it was possible to include the original building material when it was rebuilt. Today it serves as a museum and as a venue for concerts. The remains of murals, glass fragments and ceramics are evidence of the former splendour of the Carolingian complex.
The Diocesan Museum, which was built on the south-west side of the cathedral in 1975 on the basis of plans by Professor Gottfried Böhm, houses an extensive collection of religious art from the 10th to the 20th century.
(Bildnachweis: LWL / H. Gerbaulet)
Links
Stadtgeschichte
Domrundgang
Museum Kaiserpfalz
Diözesan-Museum