Gardens, Cultural Landscape, Regional Identity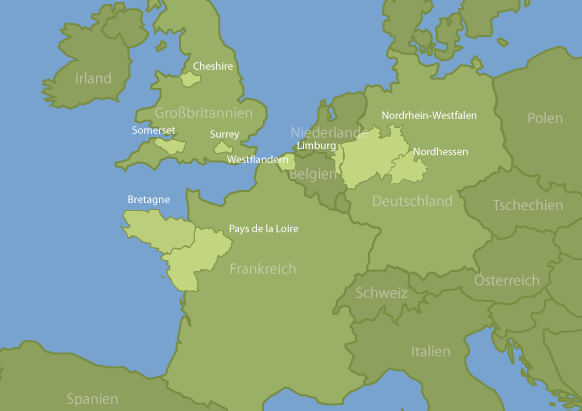 Large and small parks and gardens in the regions of the "European Garden Heritage Network" are starting points for the visitor to experience garden design, nature, history, culture and regional identity, to discover new and hidden things, to get a fresh perspective on familiar things and to enjoy the special quality of each cultural landscape. In each region routes are placed under a specific heading in order to focus on the most distinctive quality and sometimes also the most surprising aspect of a region.
With the regional theme as a linking element, as a kind of green thematic thread, there is of course no need to go from one site to another in a particular order or to visit all sites. The aim is to offer good images of gardens and to encourage the visitor to discover regions, to stop off at places which deserve attention and which then reward the guest with sensory impressions, moods and leisurely hours.
This website enables the visitor to have a first look at gardens and cultural landscapes in nine regions. It offers the (virtual) traveller the necessary information for visiting the parks and gardens, the museums and historical sites, for walks through attractive parts of towns, villages or places of natural beauty, for sampling regional specialities or taking breaks in particularly atmospheric places.
Routes and Themes
In Germany:
Ostwestfalen-Lippe / North Rhine-Westphalia
The "Garden Route of Cultural Events" with the anchor garden Kurpark Bad Driburg is presenting Ostwestfalen-Lippe, in the east of North Rhine-Westphalia
Münsterland / North Rhine-Westphalia:
Die Route "Gardens in the Münsterland castle and park landscape" (with Schlosspark Nordkirchen as anchor garden is the central theme for the second route.)
Ruhrgebiet / North Rhine-Westphalia:
"Parks and gardens as an element of urban development" (with Haus Ripshorst in the Emscher Landscape Park as anchor garden)
Rheinland / North Rhine-Westphalia:
"Inward and outward views: gardens, architecture, landscape" (with Schlosspark Dyck as anchor garden)
Nordhessen / North Hesse:
"Parks and Gardens in North Hesse – Homeland of the Brothers Grimm" (with Bergpark Wilhelmshöhe as anchor garden)
In France:
Brittany
"The Garden Coast – Parcs and Gardens in Brittany" with La Roche Jagu as the rgional anchor garden
Pays de la Loire
"The art of living and gastronomy around the gardens in Pays de la Loire" with Parc Oriental de Maulévrier as anchor garden is the motto for the Loire valley.
In Great Britain:
Surrey
The Evolution of Parks and Gardens over Time (with Painshill Park as anchor garden)
Cheshire
Picturesque Cheshire
(with Tatton Park as an anchor garden)
Cheshire
Myths and Legends
(with Tatton Park as an anchor garden)
Somerset
Reflective Landscapes
(with Hestercombe Gardens as anchor garden)
In Belgium:
West Flanders
"Gardens in Bruges and in the Bruges's region: Living in a greem environment"
(with Bulskampveld as anchor garden)
In The Netherlands:
Limburg
"Hidden paradises along the Meuse river"
(with the Botanical Garden in Kerkrade as anchor garden)
In addition, the European Garden Heritage Network EGHN incorporates a great number of "Gardens of European Themes". It is not the presentation of regional garden culture which is to the fore in the case of these parks and gardens but the common characteristics of the different eras of development in European garden design. This European dimension can be explored on this website in the form of a virtual journey. But of course real visits to these garden paradises, whether in France, Germany, the United Kingdom, Belgium, the Netherlands or Sweden (as the countried currently covered by EGHN), allow the visitor to gain an insight into the common heritage of garden culture in Europe.
It is up to you, the visitor, and at your leisure to decide how you wish to explore this variety, which seasonal atmosphere you wish to enjoy, how you wish to be charmed by the uniqueness of the various places and how long you wish to linger there.