European Garden Award 2012
---
Europäischer Gartenpreis 2012
On Friday, 30th August the European Garden Awards by EGHN and the Schloss Dyck Foundation with support by Lorenz von Ehren Nursery were awarded for the third time.
Here are winners and finalists of the European Garden Award 2012 in three categories:
• Best Development of a Historic Park or Garden
• Most Innovative Contemporary Concept or Design of a Park or Garden
• Special Award of the Schloss Dyck Foundation
CATEGORY 1:
BEST DEVELOPMENT OF A HISTORIC PARK OR GARDEN
WINNER:
EGESKOV CASTLE (DENMARK)
The park around Egeskov castle (located south of Odense on the Danish island Fyn) is nearly 300 years old, but it was only in 1962 when the family owners re-opened the park and started developing a real tourism destination.
Today Egeskov is a fascinating mix of the castle, eight larger exhibitions (e.g. vintage cars and dollhouses), the traditional park and many new gardens. They include a rose garden and the gardens of the great Danish scientist and artist Piet Hein with a maze and sculptures. Astonishingly it has been possible to preserve the 280 year old hedging system (with hedges up to 8 meter height) surrounding different garden rooms.
There also is a great variety of seasonal features such as the "Grand Gardening Days" with exhibitions showing that the garden is still under successful development and the "great tulip day" when people are invited to pick up their favourite tulips.
Laudation (by Jens Spanjer) and external link to Egeskov.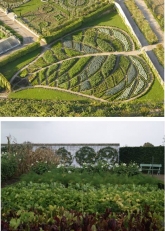 FINALIST:
LES JARDINS DE LA CHATONNIÈRE (FRANCE)
– more information
FINALIST:
MUSEUM GARDEN GAASBEEK (BELGIUM)
– more information
CATEGORY 2:
INNOVATIVE CONTEMPORARY CONCEPT OR DESIGN OF A PARK OR GARDEN
WINNER: BERGES DU RHÔNE, LYON (FARNCE)
As portrayed in the photos, the river Rhône is very present in the city of Lyon. The project, initiated by the Mayor of Lyon, was ambitious: re-developing the embankments of the river's left bank right across the city, almost 5 kilometres. This project also links the two major urban parks, by lending over 100,000 m² to the use of pedestrians, walkers, cyclists and sports people. These spaces on the edge of the river were used as huge car parks (nearly 2,200 spaces).
After an international call for tenders, this 45 million Euro project was started and realised within 2 years. In particular the removal of all these parking spaces was not easy. There were numerous public meetings and heated debates, but with may positive input form the citiziens and successful in the end.
On 9th May 2007, this new territory was opened to the public. Today, it is a "must-visit" place right at heart of the city centre of Lyon.
Laudation (by Gunnar Ericson) and external link to Berges du Rhône.
FINALIST:
OSTPARK, BERLIN (GERMANY)
– more information
FINALIST:
MADRID RIO, MADRID (SPAIN)
– more information
CATEGORY 3:
SPECIAL AWARD OF THE SCHLOSS DYCK FOUNDATION
WINNER: PORCINAI ASSOCIATION & ARCHIVE (ITALY)
Recognized as one of the most outstanding Italian landscape architects of the twentieth century, Pietro Porcinai designed a wide variety of projects on the most diverse scales: private gardens and public parks, industrial districts, buildings and furniture.
The hundreds of projects implemented in Italy and abroad – including Germany where he studied, had friends and received an award from the Bavarian Academy of Fine Arts in 1979 – comprise the most extraordinary "landscaped" gardens, perfectly integrated within their surroundings and so natural as to appear untouched by human hand.
Pocinai Association and Archive are located in a greenhouse of Villa Rondinelli in Fiesole. The aim of the archive is to conserve and make available the original works, plan, documents, manuscripts, photos and other elements that can enhance the knowledge and dissemination of Pietro Porcinai's ideas, his vision of landscape architecture and his literary works.
Laudation (by Mariachiara Pozzana) and external link to the winner.
FINALIST:
GILLY DRUMMOND / ASSOCIATION OF GARDEN TRUSTS (UK)
– more information

FINALIST:
GARTEN VON MARIHN / HORST FORYTTA (GERMANY)
– more information
The European Garden Award is supported by: