European Garden Award 2010
---
Europäischer Gartenpreis 2010
On 6 September 2010 the European Garden Award in four categories was handed out by EGHN and Schloss Dyck Foundation, Centre for Garden Art and Landscape Culture as the project lead of EGHN.
The European Garden Award focuses on more than just spectacular garden art or well-maintained herbaceous borders. According to the traditions of EGHN and based on its objectives and specific skills and experiences, the award follows a broader approach.
Consequently, different professions and skills have been represented within the jury too (R. Arnold, E. Bennis, H.-D. Collinet, G. Ericson, K. von Krosigk, S. Lenzen, A. Thornley).
Nominations have been based on innovative implementation and management, on urban development aspects, on sustainability, on good visitor services or voluntary work as well as on high quality of restoration or modern design of a park or garden. The finalists and winners are sought after as inspirational and as models for other projects.
Read more about the winners and finalists of the European Garden Award in these four categories:
• Best Development of a Historic Park or Garden
• Most Innovative Contemporary Park or Garden
• Special Award of the Schloss Dyck Foundation
• International EGHN Award
Category 1: Best Development of a Historic Park or Garden
TRENTHAM ESTATE – THE NEW AND OLD TRENTHAM GARDENS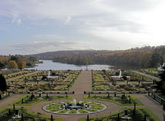 The award for Trentham Estate in Stoke-on-Trent (UK) honours a project that as no other in the UK and as only very few in Europe has restored an almost lost heritage garden (by Capability Brown, Charles Barry) , created a subtle mix with contemporary garden art (Tom Stuart-Smith, Piet Oudolf) and achieved enormous urban, social and economic effects. In Stoke-on-Trent, hurt by industrial decline and change, about 100 million Euros were invested since 1996 to develop a new leisure and tourism destination, with Trentham Gardens as its centrepiece.
There is no doubt that this development, totally financed by private investors only (St Modwen Properties, Willi and Thomas Reitz) has a strong economic focus, to be seen by shopping village, hotels, garden centre etc.). The gardens, managed by Michael Walker, have their benefits: excellent maintenance, attractive new designs and events.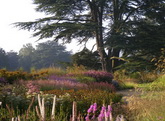 Tom Stuart-Smith modified the character of the formal Italian garden giving it a modern flair and allure by introducing about 200.000 "contemporary" plants. Piet Oudolf created, in his typical "handwriting", a prairie of grasses and herbaceous plants along the river Trent – offering retreats for visitors as well as paying attention on occasional flooding. Furthermore Trentham Gardens are very actively fostering social inclusion and cooperation with local people and are an important job and training resource.
More information: Website of EGHN and website of Trentham Estate
Other finalists: Sofiero (Sweden), Schloss Hof (Austria)
Category 2: Most Innovative Contemporary Park or Garden
MFO-PARK – URBAN SPACE IN A NARROW FABRIC – A TRANSFERABLE MODEL
A unique, urban space was opened in 2002 in Zurich on the former site of MaschinenFabrik Oerlikon, the factory giving the name MFO. Designed in cooperation by architects Burckhardt + Partners and Raderschall Landscape Architects AG, MFO-Park is a precise architectural body of 100 meters length, 35 meters width and 17 meters height. This steel structure, like a conservatory without glass, gets its specific shape and texture from the foliage of different climbing plants.
The "building" is filled by ever chaging light, shadow and smells. Balconies and platforms at different levels, including the roof, invite visitors to a three dimensional walk and to a rest with stunning views. The shaded ground level, structured by a small pond and climbing structures is open for different uses such as events, sport and play.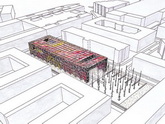 In addition to this unique design and overwhelming acceptance, MFO Park qualifies as the winner in this category as the park exemplifies how public realm in narrow urban quarters can be enlarged. Finally, the jury understand the decision of the City of Zurich for the MFO-park as an early and forward-thinking answer to climate change: sustainable design and maintenance of green spaces, facades and roofs offering comfort and high quality outdoor activities (e.g. cool and shaded shelters).
More information: Website of the city of Zurich
Other finalists: CarlAlexanderPark (Germany), Parc de Diagonal-Mar (Spain)
Category 3: Special Award of the Schloss Dyck Foundation
FOUNDATION FOR HISTORIC GARDENS IN LOWER SAXONY – CIVIC COMMITMENT IN SUPPORT OF GARDEN HERITAGE
Many of the more than thousand parks and gardens of heritage value in Lower Saxony (Germany) are facing an uncertain future. Many owners, if left on their own, will be unable to maintain the sites or all the valuable elements and structures. To support these owners, to facilitate exchange and advice and to raise public awareness, the Niedersächsische Gesellschaft zur Erhaltung Historischer Gärten was founded in 1994. To further raise the profile, to enable additional activities and to give financial support, the Foundation for Historic Gardens in Lower Saxony (Stiftung Historische Gärten in Niederschsen) was set up in 1997.
T
he Foundation directly and indirectly supports and finances restoration work in well selected parks and gardens of heritage value. One of the main objectives of the foundation is to guarantee high quality and sustainability of all investments made in historic gardens. The list of measures that the foundation contributed to includes the parks at Gut Walshausen, Gut Remeringhausen, Schloss Wrisbergholzen, Rittergut Westerbrak and Gutspark Eckerde.
More information: Website of the Foundation
Other finalists: Domaine de Chaumont-sur-Loire (France), Tatton Park Biennial (U.K.)
Category 4: International EGHN Award
HIGH LINE – A GREEN CORRIDOR IN THE METROPOLITAN DENSENESS
Two friends once had a dream: to convert a derelict, rusted and monstrous railway line midst of Manhattan into a public park – in spite of permanent budget holes in New York City. 10 years later the dream has become reality: Like a green carpet the High Line Park now rolls out in the urban canyons of the metropolis. On the elevated rail track, accessible by staircases and elevators, a multitude of plantings, pathways and sitting areas are inviting visitors for a walk and a rest. Flâneurs enjoy inside and outside views on streets and buildings, views on the Hudson and its piers as well as cultural events.
There are other examples for turning former railway tracks into green corridors since more than 20 years, in Paris and in the Ruhr Metropolis for instance. But never before such a transfer, such new design and new use were implemented in such a spectacular and meticulous manner. Never before the citizens not only benefit from a comparable project but – as the Friends of the High Line – also initiated it and are now responsible for the measures and the management of the park in close cooperation with the city of New York. No other park of that style, even not in Paris, attracted so many visitors in such a short period of time and has developed to such a major tourist attraction as the High Line Park did.
The members of the jury of the European Garden Award were so fascinated by the history, development and success of the High Line that they decided to originate an "International EGHN Award" allowing awarding such exceptional projects even outside Europe. Shortly after their decision to give the award to the first section (2,5 km) of High Line, the city of New York agreed to support the enlargement of the High Line. Now the Friends of the High Line need to find a substantial amount of donations and sponsoring to ensure both the implementation of the new section and the maintenance of the quality of the park whose overwhelming success and visitors numbers have not been expected at all. Donations from Europe are welcome!
More information: Website of the Friends of the High Line