Egeskov castle park was created by Niels Krag the Younger, who lived at Egeskov from 1722 to 1740. The inspiration for the park's design came from the castle parks at Fredensborg and Frederiksborg as well as from the gardens at Versailles. The park consisted of four gardens surrounded by a network of hedges measuring up to 8 metres in height. This network still survives today and is a striking feature of the park. The individual garden areas, by contrast, have changed and developed over time in accordance with garden fashions.
Today's visitors to Egeskov find a large number of gardens, including various mazes, a scented garden, a fuchsia garden, a kitchen garden, a Renaissance garden, a rose and herbaceous garden, a white garden, a water garden and an English garden.
A visit to the park is rounded off by a large number of collections and exhibitions in the numerous castle buildings.
Egeskov moated castle was built in the south of Fünen island in 1554. Niels Krag the Younger, who lived at Egeskov from 1722 to 1740, established the castle park. An impressive feature of the park which has survived up to the present day is the more than 300-year-old network of hedges surrounding the individual garden areas and the various mazes.

The old maze of trimmed beech hedges was originally laid out in 1730 for the entertainment and amusement of the rulers. It is no longer accessible to visitors. A new willow maze designed by artist Piet Hein was added in 1990. A tower rises up at its centre, giving visitors a sweeping view of the hedges and the park. Piet Hein, who has been a regular visitor to the castle park since 1938, also designed a yew maze and the "Helix Helios" sundial at its centre. Another maze can be found at the edge of the park. It is based on plans drawn up by Count Claus Ahlefeldt-Laurvig-Bille.
The scented garden, which was laid out in 2002 in accordance with designs by castle gardener Peter Bonde Poulsen, is surrounded by a wattle fence made of bird cherry. Apart from accommodating seasoning herbs and medicinal herbs, it houses a collection of scented pelargoniums. Visitors are allowed to touch the plants so that they can enjoy their scents.
The fuchsia garden is surrounded by high hedges and was originally laid out as an orchard. Today it is home to one of the largest collections of fuchsias in Europe, consisting of more than a thousand different kinds. Some of the plants are between 80 and 90 years old. The plants are brought into greenhouses in winter to ensure their survival. When the fruit trees are in flower in spring, 70 different types of tulip blossom here.

The kitchen garden originates from a design created by C.T.H Sørensen in 1972 in accordance with the wishes of Countess Nonni Ahlefeldt. It was inspired by 17th-century kitchen gardens as they looked at the time of Christian IV. Architect Mogens Lassen designed the garden buildings. The kitchen garden features raised beds and arcades and is home to a large selection of both traditional and newer types of vegetables and flowers for cutting. All the plants are raised in the castle nursery, the only one in Denmark which is both attached to a major estate and still in operation. It too is open to visitors.
The Renaissance garden, which was laid out in 1962 by French garden architect Ferdinand Duprat, has a classic design featuring a central axis, fountains, coloured gravel, "topiaries" and box trees trimmed into the shape of the French lily.
The rose garden was designed by castle gardener Peter Bonde Poulsen in 2004. The beds, which are surrounded by box hedges, are planted with various roses – climbing roses, historical roses, large-headed roses, English roses, small-headed roses, ground-covering roses and the Egeskov rose.
The herbaceous garden dating from 1996 contains approx. 250 different types of perennials today, which provide a splendid display of cheerful and colourful blossoms from spring to autumn. Plants in all shades of grey grow in the sunken grey garden.
Azaleas, rhododendrons, ferns, primroses and hostas flourish in the romantic water garden. The water garden is fed from the castle moat, the water flowing out of the moat and over small cascades, through the water garden and into Hågerup Å stream.
The English garden is characterized by sweeping lawns and beautiful old trees. Of particular note here are the huge solitary plane tree, the weeping beech and the cut-leaved beech. A gunnera stands at the edge of the stream.
The white garden was created in 1999 in the style of a classic Renaissance garden with symmetrical beds and borders comprised of low box hedges. Inspired by Sissinghurst, it presents itself as a high-summer garden in white and cream with perennials which enchant the visitor with their scents. Landscape architect Jane Schul designed the composition of the planting.
The poet and artist Piet Hein has been visiting Egeskov since 1938. In 1989, he gave the owner a present of the 11-metre-tall sundial Helix Helios. The rose garden at the sundial was created in 1998. The garden, which is underplanted with scented English roses and various perennials, guarantees a display of blossoms from summer into late autumn.
A wildlife park covering about 2 hectares provides a natural finish to the English garden.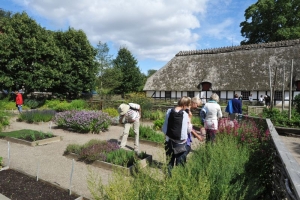 Adress:
Egeskov Slot
Egeskov Gade 18
DK-5772 Kvaerndrup
Insel Fünen
Dänemark
Email: info@egeskov.dk
Website: www.egeskov.dk

Owner: Graf Michael Ahlefeldt-Laurvig-Bille
Opening times:
Daily from 26. April to 20. October
26. April to 28. June 10-17
29. June to 11. August 10-19
12. August to 31. August 10-18
1. September to 20 October 10-17 Uhr
No guided tours!
Admission Prices:
Adults: 190 DKK
Kids: 110 DKK
Free entry for children under 4 years.
Events, programme, exhibitions: Please check website: www.egeskov.dk.
Customer Services:
Shop: yes.
Sale of Plants: Seasonal range of plants, mainly from own nursery.
Museum, Exhibitions: Classic Cars, Bicycles, Motorcycle, Open Depository, The Grocer's Shop, Man & Mechanics, Falck Museum, Fashion, The Old Smithy, Gallery Ahlefeldt
Tea Room/ Restaurant: yes, picnic allowed
Toilets: yes
Parking: free
Map and additional information: Visitors receive a map guide. Aslo as download here as Pdf.
Seats and benches: yes
Average visitor duration: 4 – 7 hours
Accessibility – in the park/ garden: All main paths are fully accessible.
Dogs: Dogs on leash only. No dogs within the castle.
Bicycles: No cycling.
Camping: The camping site is fairly basic and reserved for tents only for max. 2 nights (for free). Consequently, cars, caravans, and camper vans are not allowed at the camping site.